About Chipstead
Ask a Chipstead resident what he or she wants for their village and the answer would probably be for it to remain exactly the way it is.
Lying on the top of the North Downs at the southern boundary of greater London, Chipstead is conveniently situated for easy access to central London, the M25 motorway and Gatwick airport. And yet, despite all this proximity, Chipstead retains the gentle, bucolic charm of a Surrey village, an oasis of rural tranquility on the fringe of suburbia, enjoying a strong sense of identity, caring and community. Villagers value the mature trees and hedgerows, the open fields and farmland, the narrow, winding lanes and the absence of street lighting.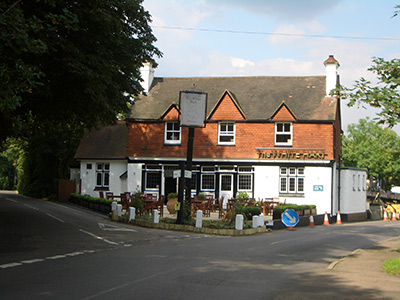 Chipstead is a scattered village within a parish of about 2000 acres. The parish church of St Margaret's in the east stands over half a mile from the village pond and the White Hart pub. The surviving shops on the north are over 150 feet lower down in Chipstead valley. The hamlet of Mugswell lies about a mile in the south.
Chipstead offers most of the classic features expected of a country village, with a beautiful Norman church, a pretty village pond, a community hall, a village green, a pub/restaurant and an exceptional amateur theatre. There are more than 30 clubs and societies which cater for all age groups, ranging from the Fine Arts to the Chipstead Brownies.
The village accommodates a wide range of sports clubs. The growth and success of these clubs are a particular source of pride for both Chipstead and for the clubs themselves; they are to be congratulated in the respect, especially in the benefits they provide younger members of the community. The rugby Union and Football clubs have enjoyed spectacular success, and the Cricket, Golf, Tennis, Bowls and Badminton clubs are all very strongly supported.
Each year Chipstead hosts three major events which attract hundreds of visitors from far and wide. The Village Fair in July has been held since 1909, the Guy Fawkes celebrations on Chipstead Meads since 1976, and Chipstead residents provide refreshments for the London to Brighton Bike Ride in June on behalf of the British Heart Foundation.
Good communication with Chipstead Residents is an important part of village life. St Margaret's Church publishes a monthly magazine which includes many excellent articlesof local interest. The 'Voice of Chipstead' is a quarterly magazine with topical articles and information on local businesses. The CVPS and CRA have jointly developed this website to disseminate topical information and collect local opinion.
That Chipstead survives as a village so close to London has been an achievement in itself, and is largely due to the tireless efforts of the Chipstead Village Preservation Society (CVPS) and the Chipstead Residents Association (CRA), who have fought countless battles to head off inappropriate development and preserve the character and the quality of life in the village over many decades.